Stay tuned (and safe inside) for what we are doing in 2022
The Festival Ensemble from last time we did it:

Vinny Francois has over 20 years of experience as a professional improviser in both English and French and is an award-winning instructor. A founding director of the Montreal Improv Theatre, he has performed in more shows and venues across Canada than he cares to count. He was the Executive Producer of Mprov: The Montreal Improv Festival and he runs Camp Zipzap, an improv camp for adults in Quebec. Vinny is excited to share the thrill of doing improv with anyone willing to learn.
To take a workshop with Vinny click on the facebook event HERE

Tyra Banda has been improvising for the past six years. She got her start at the University of Alberta Improv Group, which gave her opportunities to perform in Seattle, Vancouver, as well as throughout Edmonton. Tyra was also part of Rapid Fire Theatre for two years, but left for Toronto this summer to pursue a diploma of Comedy Writing and Performance at Humber College.

Hayley Kellett is a peach-loving, neon-haired improviser hailing from Guelph, ON. She is the Improv Incubator Director of The Making-Box, Guelph Comedy Festival board member and founder of The Phlegm Fatales, Guelph's first all-women and non-binary improv troupe. Hayley an alumnus of Second City Tour Co. and is a Canadian Comedy Award Nominee (Best Female Improviser, 2015). Other career highlights include stage-kissing Whose Line Is It Anyway? star Colin Mochrie on the mouth. Twice.

Jay Reid is Co-Founder of The Making-Box, southern Ontario's award-winning live comedy theatre and improv education centre with locations in Guelph and Kitchener-Waterloo. Jay has had the pleasure of teaching and performing at improv festivals across North America and is delighted to be in Winnipeg for his first time.

Kevin Ramberran is an improviser, actor, director, producer, and DJ by night (and works in finance by day). A lover of most things artistic, Kevin is a founding member of the Winnipeg improv group Club Soda. A lover of hip-hop and comedy, Kevin is keen on making mouths laugh and making heads nod.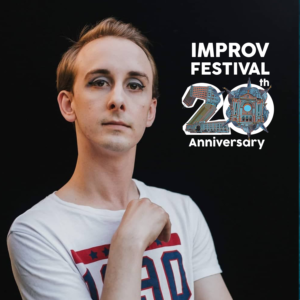 Jonathan Mourant is a trans-disciplinary performer, producer, and also a robot learning how to be human. They have been improvising for just under a decade and have performed and learned at festivals and workshops across Canada, including the Winnipeg Improv Festival and Toronto SketchFest. This year, Jonathan wrote and directed Here Together for the 2019 Winnipeg Fringe Festival and created Jon After Hours, an experimental late night talk show featuring local personalities. Recently, they have begun performing drag as Nora Vision, and are thrilled at the opportunities to combine improv, theatre, and drag into their own unique performance.
Local Players:

Jaydin Pommer is a comedian from Winnipeg, Manitoba. She is a member of the sketch comedy group Family Dinner and has performed improv at various festivals all across the country. She is five foot eight and not great at writing bios, but she is still very excited to perform for you.

Kristina Guevarra is a filipinax cross-over performer from Winnipeg, MB. She started performing improv theatre through the Canadian Improv Games as a student player in 2012. She is no stranger to the Winnipeg Fringe Festival, the Winnipeg Comedy Festival and has travelled nationally to perform in a handful of national improv festivals. Along with dabbling in stand-up and sketch comedy, she also produces, performs and teaches with her own improv company HeadQuarters Improv. Kristina is so excited to perform with the Winnipeg Improv Festival for her second year in a row!

Jon Kornelsen has performed and taught improv for over ten years. You may have seen him on stage with Parking Lots (2011-2016), in the Winnipeg Fringe Festival (2012 – 2015), or with Make 'Em Ups Improv in Halifax (2014). Now, he spends his time teaching improv and drama to teenagers.

MITCH KROHN joined the Crosseyed Rascals in 2002. He is a man of a thousand faces.  In 2016 Mitch suffered a major spine injury and a severe stroke that left his ability perform "physical comedy" extremely altered. He has to rely on his wits – god help us all.

Ronald George Moore have been performing mprov comedy for decades, but professionally for two weeks.  He is a member or former member of the comedy troupes Fiddle Stix, The Kookie Jar and Broken Babies.  Check out The Manitoba Moneyshot Podcast for all things RGM.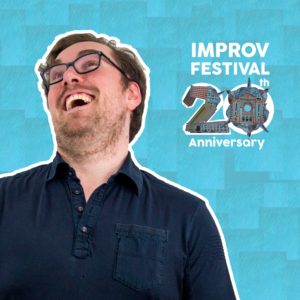 Celebrate Everything (the storytellers)

Gursevak was born and raised in Ottawa, Ontario. He previously worked in the public service and is a certified public health inspector who is now pursuing a degree in Education at the University of Manitoba. He is a follower of the Sikh faith, a humanist, an avid food lover and loves to travel. He lives in Winnipeg with is beautiful wife and loves to volunteer with different causes. 

Sarah Fontaine-Sinclair is Anishinaabe and carries the name "Nimizhien-Nibiiens" or "The Light that Dances on the Water." She is an climate change activist who was named Next Generation Peace Maker of the Year for 2019 by the Peace and Justice Studies Association. She is also a soccer player and award-winning flutist (not at the same time) who attends school at Ecole Laura Secord in Winnipeg, Manitoba.

Calvin Loi is an undergraduate student majoring in accounting at the Asper School of Business. Throughout his academic career, he has and continues to demonstrate a strong work ethic and commitment to his community. In the past, Calvin has served as Co-President of a social justice group called Hope for the Homeless and as Student Representative on the Winnipeg School Division's Student Advisory Committee. This volunteer work received recognition from His Worship Brian Bowman, who noted that Calvin's efforts contribute to building a safer and stronger City of Winnipeg. In addition, Calvin is currently serving as the Adult Ambassador General for Folklorama, where he spreads Folklorama's mission of celebrating diversity and promoting cultural understanding. In his free time, Calvin enjoys watching curling and seeing the strategy develop!

Tasneem Vali has been performing, and producing comedy for over twenty three years in her role as a mom. In 1990 she moved to Detroit, MI to pursue a degree in Architecture where she met her husband, They then moved to Chicago, IL where she worked in healthcare Architecture for 7 years. Later they moved to Karachi, Pakistan and finally call Winnipeg home. Living and being immersed in such a variety of cultures has given Tasneem an appreciation for diversity and differences. She has changed many careers over the years from Project Architect, to educator, writer, editor, office manager and now a small business owner. Tasneem's faith is her cornerstone and she loves to share its funnier side with everyone. Besides eating and embarrassing her teenagers, Tasneem loves to swim and volunteers her time with Girl Guides of Canada as a leader.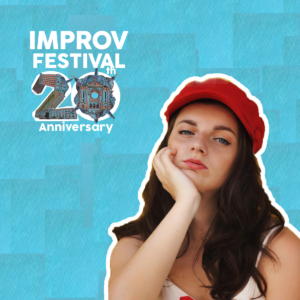 Erin Meagan Schwartz is an interdisciplinary artist with a deep desire to connect. They are a Jewish non-binary creator who performs with The Neighbourhood Watch, works with the Canadian Improv Games, and has taught improv to youth at the West End Cultural Centre. She is an ex-horoscope writer, current magic maker, and future recipient of a precious gift.
One Great Winnipeg (the storytellers)

Taller on radio Ron Robinson is the former host of the Weekend Morning Show on CBC Radio. A born and bred Winnipegger, he has travelled coast to coast, but always limped home. Along with his wife, Carol McKibbon, he hosts the cleverly named Saturday Morning Show, as well as Pages: Radio for Readers on CKUW Fm, 95.9. 
Featured in "Picture This"

Niigaanwewidam James Sinclair is Anishinaabe (St. Peter's/Little Peguis) and an Associate Professor at the University of Manitoba. He is an award-winning writer, editor and activist who was named one of Monocle Magazine's "Canada's Top 20 Most Influential People" and he won the 2018 Canadian columnist of the year at the National Newspaper Awards for his bi-weekly columns in The Winnipeg Free Press. In 2019 Niigaan was named Peace Educator of the Year by the international organization Peace and Justice Studies Association based out of Washington, DC.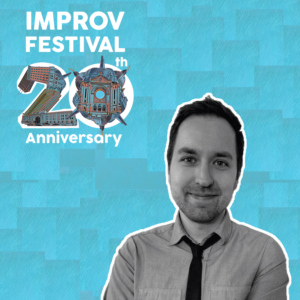 Ryan Harby is a writer and illustrator based out of Winnipeg who makes cartoons and calls it very serious work, indeed. His webcomic, Honey Dill, updates regularly and can be found inside the Internet.
Ghost Stories (the storyteller)

Matthew Komus, author of Haunted Winnipeg and Haunted Manitoba has worked as a story teller for over fifteen years. Topics covered by his work include everything from hockey and haunted buildings (very popular), to modernist architecture and composting toilets (not as popular). Haunted Manitoba officially launches on October 29th.
Local Showcase Groups!

ImproVision are veterans of 16 Winnipeg Fringe Festivals, one Edmonton Fringe Festival, two tours of duty in Puerto Vallarta and a handful of Winnipeg IF and Winnipeg Comedy Festivals. CBC Manitoba called them "the kings of short-form improv" but you can call them Alan MacKenzie, Ed Cuddy, George McRobb and Audra Lesosky.

The Crosseyed Rascals have been performing together for the past 18 years.  They are known for their clean improv, but aren't afraid to get a little dirty every once in a while.

Club Soda is an improv group powered by friendship. One of Winnipeg's most regularly active groups, Club Soda was founded in 2016 and can be found performing regularly at Winnipeg's comedy bar Wee Johnny's every month. With a desire to bring genuine moments to the stage and hearty laughter to boot, Club Soda is always excited to welcome new members to the club.
Public Improv Workshop with Vinny!

TOTAL IMPROV: Ok, you've heard about saying yes and miming and storytelling and connecting with your partner and making strong choices and all that great stuff. Super! Now let's try and do all of them at once! This workshop presents a series of exercises that allow you to use all of the skills you've learned at the same time to build a fuller, richer scene.
Sun, Oct 27th 1:00 pm to 5:00 pm at the Gas Station Arts Centre
Email us at winnipegimprovfestival (@) gmail (.) com for details
click on the facebook event HERE
The Festival is organized by: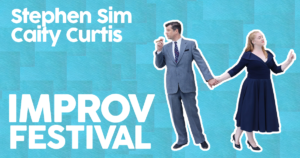 Stephen Sim is the founder of the Winnipeg Improv Festival way back in 2000. He is one half of the duo Stephen & Caity and one-half of the international duo CRUMBS, so he is used to being a part of something. He has performed and taught master classes in improvisation all over the world for close to two decades. He is also a co-founder of "The Improv Company" and a lifelong improviser.
Caity Curtis is an improviser, performer and producer. She is a co-founder of "The Improv Company" and one half of the duo "Stephen & Caity". She is the Associate Artistic Director of this festival. She has travelled the country and led workshops and directed shows for years. She is amazing.
Check out improvisers, performers and guest from past festivals