Improv Workshop
Can't We All Get Along?
Theatre, Literature, Cinema and Real Life are all filled with people who like each other. People who fall in love, maintain friendships, and struggle not with enemies, but with friends, family, and love. The same can't always be said for improvised scenes, where characters spend a lot of time defined by their disagreements. It can be hard for improvisers to find interesting tension without reaching for external conflict.
This workshop will explore other forms of conflict. We will work with scenes between characters who like each other, who fall in love, and who mean to help, even when they don't. We'll explore characters who are at war with themselves, not with someone else.  We'll look at off-stage conflict, and how on-stage characters can embody that conflict in interesting ways.  We'll also explore how to play with hot-and-cold relationships: odd couples, relationships of grudging respect, love/hate relationships, and characters who fall in love with the worst possible choice.
These tools are important building blocks for long form and also a great way to vary up short form.
The class is recommended for advanced and intermediate improvisers with at least some performing experience. *to apply to attend this workshop please message simprov(@)hotmail.com
Sunday, Oct 22nd 2-5PM $30
Gas Station Arts Centre 445 River Ave
 *payment due at the workshop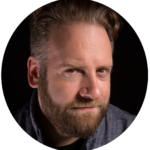 Tony Beeman performs regularly as part of Seattle's Unexpected Productions, where he directs, teaches Unexpected's Performance class, serves as Artistic Associate and manages Improv Anonymous, UP's resident longform group. Off-stage, Tony loves graphic design, illustration, writing, photography, everything Seattle, his wife, Jeannine, and his dog, Jane Boston.